WE CAN CREATE A FUTURE
WHERE NO VETERAN FALLS THROUGH THE CRACKS
creating systemic change for fragmented communities around the globe
Combined Arms is redesigning the transition experience to elevate communities through Innovative Collaboration. Combined Arms is the backbone for the Texas Veterans Network, making Texas the first interconnected state for veterans and military families. This innovative and collaborative model is fueled by the portfolio of national, regional, state and best in class veteran-serving organizations that provide veterans and military families services through a no wrong door system to accelerate their transition to civilian life, into new communities and provide support during times of crisis.
---
Currently expanding in Dallas/Ft. Worth, Austin, El Paso and across Rural Texas.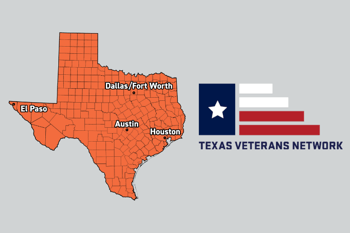 Want Combined Arms in Your Community?
WHAT WE OFFER:
T

echnology

: Efficiently connects veterans with service organizations

that provide customized resources to support the holistic veteran and military family.

Engagement Campaign - Community Leaders

: Changing the future of Texas and future cities with

the Combined Arms model by attracting veterans to them; to work, to live,

to engage and make the community stronger.

Member Organizations

: Fostering a collaborative body of vetted

organizations in order to provide holistic support to all veterans.

Transition Center

: A home base for all, our space builds connections between veterans, military families, member organizations and civilians.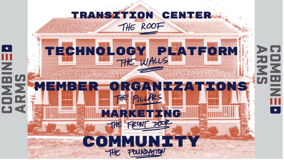 ---
Have more questions?
Email us at institute@combinedarms.us
"Combined Arms has established themselves as an innovative community integrator that stands out among other organizations with similar missions. I have consistently been impressed with their team's ability to provide highly customized technology infrastructure for our complex and expanding Veteran Wellness Alliance (inclusive of the VA) through a nimble, agile and efficient operation."
-Kacie Kelly, Director Health & Wellbeing, George W. Bush Institute
Combined Arms in Communities
Identify an academic partner

Conduct a needs assessment

Identify, map and build relationships with stakeholders (local, regional, and national partners: Housing, Healthcare, Employment, Education, Benefits/Financial, Social)

Write the business case/secure funding