EXTENDED THROUGH SUNDAY, SEPTEMBER 25th, 2022
NORTHEAST FLORIDA VETERANS & Families NEEDS ASSESSMENT

The results of this survey will help assess the needs of Veterans and Families in the Northeast Florida region.
You are welcome to participate in this survey if you are military (active, guard, reserve), a military family member, a Veteran, a family member of a Veteran, a caregiver of a Veteran, or an employee of a military/Veteran service organization that serves Veterans and/or their families. Your responses will help shape policy and determine the application of resources for future Veterans' programs. The survey is about 10 minutes and is anonymous. If you are not comfortable answering any questions, please feel free to skip them.
Please share this survey with other individuals in the military-connected community.

IMPORTANT DATES & ANNOUNCEMENTS
Survey Launch - August 10th, 2022
Survey Open - August 10th - September 21st, 2022
EXTENDED THROUGH SUNDAY, SEPTEMBER 25th, 2022
---
VSO Leader Appreciation Lunch & Survey Town Hall
Thursday, September 1st, 2022
The Salem Centre
7235 Bentley Rd, Jacksonville, FL 32256
11:00 AM-1:00 PM
---
Help us spread the word! For more images and content, download the
The 2022 #NEFVSurvey gives our #military & #Veteran families a voice & platform to inform decision makers of their experiences and challenges.
With your feedback, we can create solutions that help YOU! Take the #NEFVSurvey today!
https://www.combinedarms.us/northeastfloridavets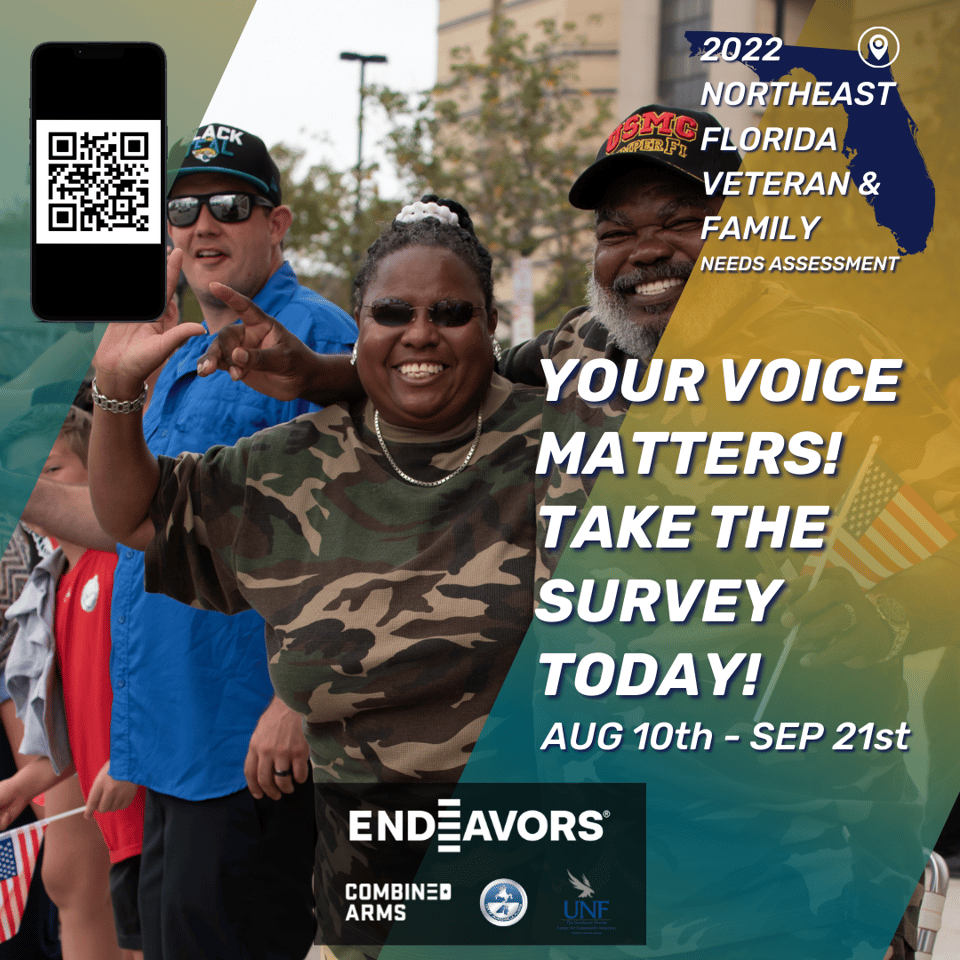 Interested in hosting a town hall? Email: kelly@combinedarms.us
---
To learn more about this survey. Read the press release here.
About Endeavors:
Headquartered in San Antonio, Endeavors is a national service organization that has been assisting vulnerable populations since 1969. Endeavors offers an array of services and programs supporting children, families, migrants, Veterans and those struggling with mental illness, disabilities, disasters or emergencies. Endeavors serves people in crisis with personalized services. For more information, visit
www.endeavors.org
.
---
The FINAL Report will be posted here. Expected November 2022.
Enter your information below if you would like an email copy of the final report.