VETERAN IMPACT ORGANIZATIONS COLLABORATE TO CONNECT 30,000 TEXAS VETERANS CONNECTED TO RESOURCES!
Just two years after launching the Texas Veterans Network powered by Combined Arms is celebrating 30,000 resource connected veterans in Texas! The Texas Veterans Network was launched in April of 2020 in partnership with the Texas Workforce Commission to make Texas the first interconnected state for veterans and military families. The goal is to ensure that veterans and military families have access to a resource filled support system in order to ease transitions between before, during, and after separation from military service and ensure the 1.4 Million veterans living in Texas have a great network of support.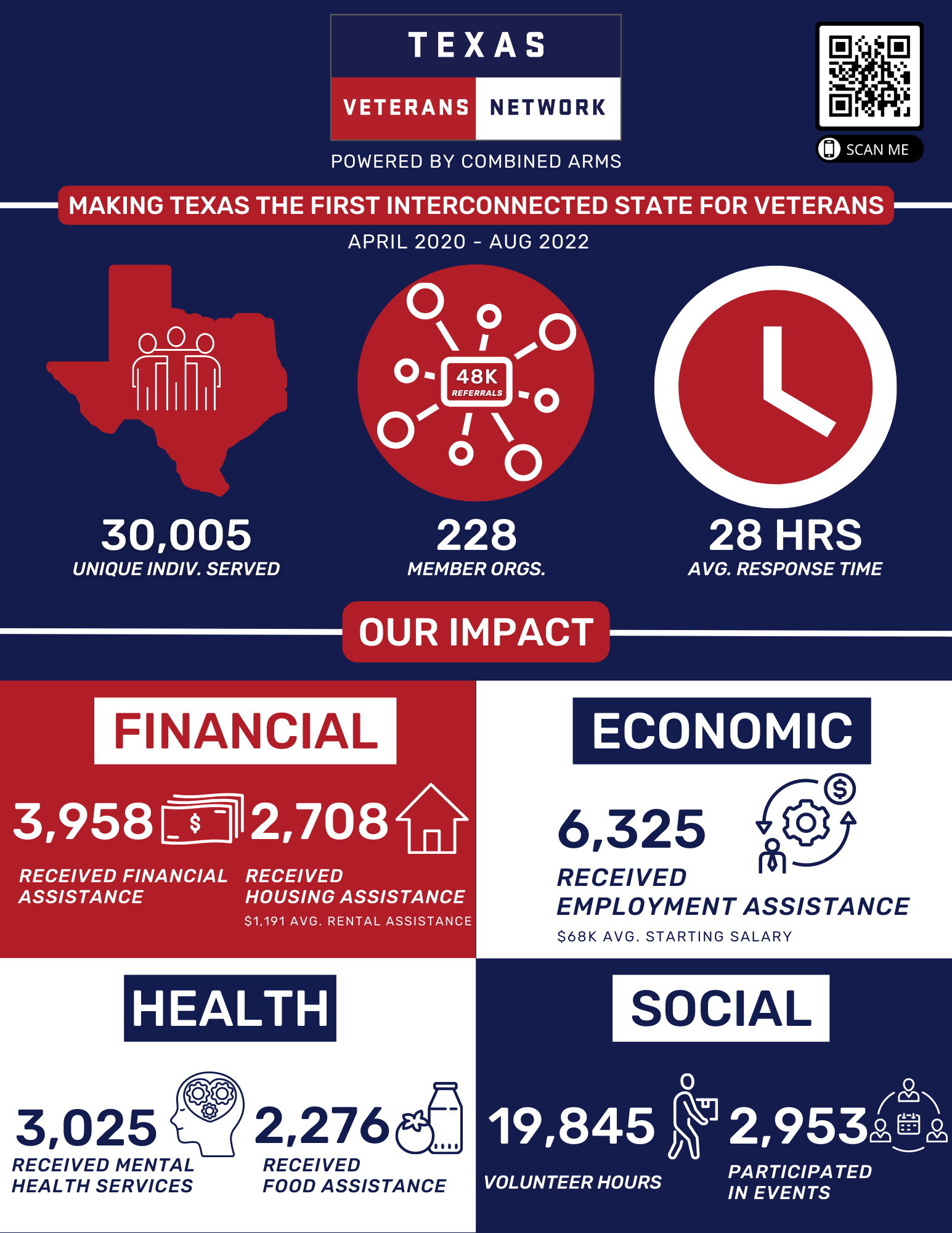 The Texas Veterans Network (TVN) is an expansion of the Combined Arms model across the state using an innovative approach of technology and service delivery to disrupt the veteran transition. This collaborative model is built on the shoulders of over 140 best-in-class nonprofits, state and federal agencies that provide the support services to assist individuals and families with employment, housing, healthcare, education, benefits and social services. With regional directors in Houston, Dallas/Ft.Worth, Austin, El Paso, the panhandle, and rural communities, the entire state is being mapped for resources and connection.
Learn more about TVN and their mission to impact the lives of service members, veterans, and their families here.
To gain access to our growing network of 200+ Member Organizations that provide emotional support, financial assistance, and more to service members, veterans, and their families, create a FREE profile and connect directly with 1000+ social services and resources in just minutes or call 1-888-737-3112.