COMBINED ARMS: COMPARING DANISH AND AMERICAN MILITARY TRANSITION SYSTEMS
John W. Boerstler
The War in Afghanistan has claimed many casualties for NATO ISAF forces, the majority coming from the United States and United Kingdom. However, several smaller NATO member states have made significant troop contributions since the beginning of the mission. The Kingdom of Denmark is one of these important partners, having contributed over 3,500 troops working in combat arms roles such as infantry, armor, engineers, medical support, and others that have been critical in engaging Al Qaeda and Taliban forces in some of the most treacherous regions like Helmand and Kandahar. After preliminary research into the Danish participation in the Global War on Terror by engaging experts in Washington, DC, our Project Team discovered that the Danes have suffered the highest number of combat casualties per capita when compared to their fellow NATO troop contributors, according to the think tank Cooperation and Conflict. Further research showed that the Danish soldiers who had served in Afghanistan are suffering from significantly lower levels of unemployment, homelessness, and suicide when compared to their American counterparts, according to studies conducted by Europe PubMed Central. This information encouraged our team to conduct a comparative analysis of US and Danish military transition systems, with the support of the German Marshall Fund, Veterans Support Foundation, McKesson Foundation, and several NGO's in Houston, Texas that will be mentioned later in this report.
Our goals were to learn more about the civilian reintegration process for Afghanistan veterans in Denmark and compare that to how American troops return to civilian life in Houston, Texas in an effort to learn from the Danish military transition system and apply lessons to improve our own comparable model at the community level. Although 5,177 miles separate Houston and Denmark, the two share several important traits that made it easier to link instead of comparing the entire American system with that of Denmark, which is obviously much smaller and would produce skewed results. For example, Denmark has an approximate population of 5.6 million people. In comparison, the Greater Houston Area has approximately 6.2 million, which makes it easier to evaluate the community-based services offered for veterans living in both systems. In contrast, Houston has a higher Afghanistan War veteran population, numbering around 10,000, according to the US Department of Affairs VetPop data by county, whereas Denmark has approximately 3,500 who have served in the same conflict. Despite the differences between the two, it's much easier for our team to use Houston as a basis of comparison because of the overall population similarity and the fact that we have significant experience operating in the arena of military transition programming. Because this project is only a cursory comparison of the two systems, our research methods were a combination of evaluating academic articles and conducting expert interviews in Houston, Ringsted, Slagelse, and Copenhagen. Several assumptions were made about the major cultural differences between the Houston and Denmark that should be addressed before continuing to the findings. Denmark has a substantial social welfare system that provides health care to its citizens, which soldiers have access to after leaving the military. Denmark also has a much more homogenous population whereas Houston is now the most diverse city in the US. These assumptions were important to our team to address up-front and consider throughout the examination in order to focus on what programs we could have an impact on back home that fit within our system.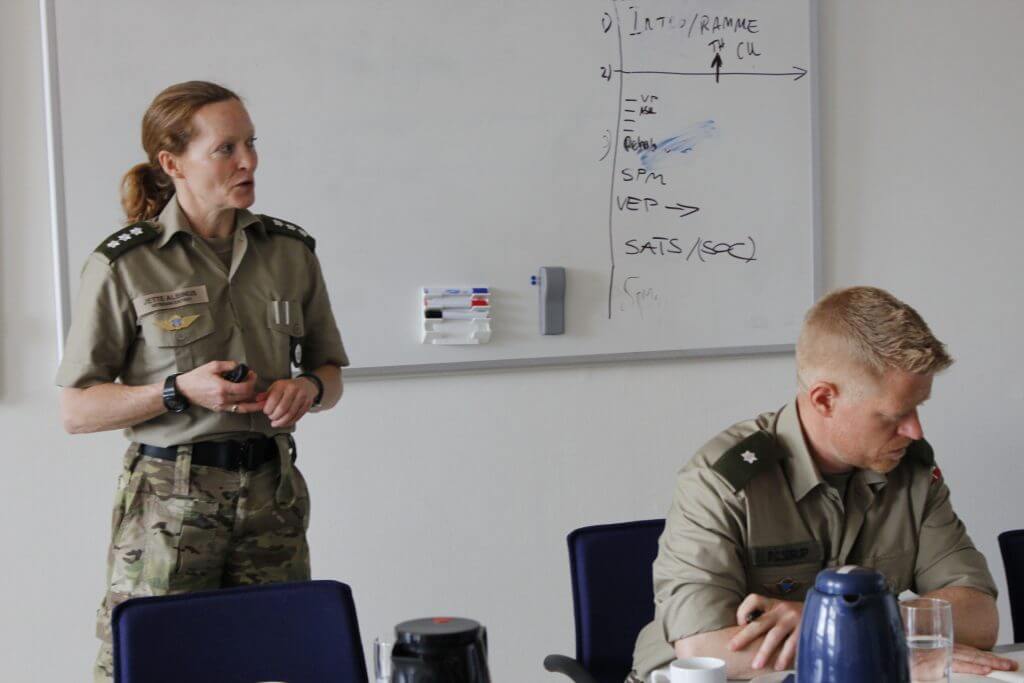 One of the major takeaways from interviewing experts in Denmark was that they established the VeteranCentret or Danish Veteran Centre in 2011, which serves as the Ministry of Defense's formal military transition hub (pictured left). Through the Danish Veterans Center, transitioning soldiers can receive mental health treatment, employment and reintegration case management services, legal help, assistance in navigating the complex system of military benefits, and enrollment in the health care system. The Center's extensive network of community-based locations (shown below) allows transitioning veterans access to services close to home. Although Houston has one of the most well-connected and collaborative informal networks of governmental entities and NGO's serving the transitioning military population, we do not have a central hub for transitioning service members to seek these types of services. The closest thing we have is the Michael E. DeBakey VA Medical Center's Post Deployment Clinic which focuses on enrolling returning veterans in the Veterans Health Administration for medical and mental health treatment but does not provide ancillary services related to employment, legal, and benefits assistance.
The Danish Veterans Center is commanded by Army Colonel Jette Albinus and her staff consisting of both military and civilian professionals serving in various roles throughout the country. Her mission is to execute the Danish Veterans Policy. The Veterans Policy outlines many programs for the government to institute in response to the high number of combat veterans returning from Afghanistan but the program also serves all generations of veterans since Denmark has a substantial population who served in the Balkans. The Danish Veterans Policy was developed in 2010 by the former Minister of Defence led by Gitte Lillehund Bech (pictured below) who our project team also met with. In addition to providing all of the services referred to earlier, Colonel Albinus (pictured left) has direction to meet with and coordinate between the many important NGO's that serve Danish veterans – a massive task in itself. Her goal is to host an annual conference including the leadership from each NGO and to also visit these leaders in-person at least twice per year at their headquarters. Her focus is on prevention of the issues that negatively impact a veteran's transition. Needless to say, after a 3 hour briefing by Colonel Albinus' staff, our team was convinced that the Veterans Center concept is what Houston needs to better connect the multitude of programs and services offered by government and NGO's in order to ensure we coordinate our efforts more successfully. However, one of the key differences and challenges to overcome in Houston will be that the role of central coordinator between government and NGO programs is not designated through any equivalent, unifying veteran policy comparable to that of Denmark. Conceivably, without such a role outlined in policy, identifying, engaging, and holding these programs accountable could pose major challenges unless all those in the region opt-in to such an effort.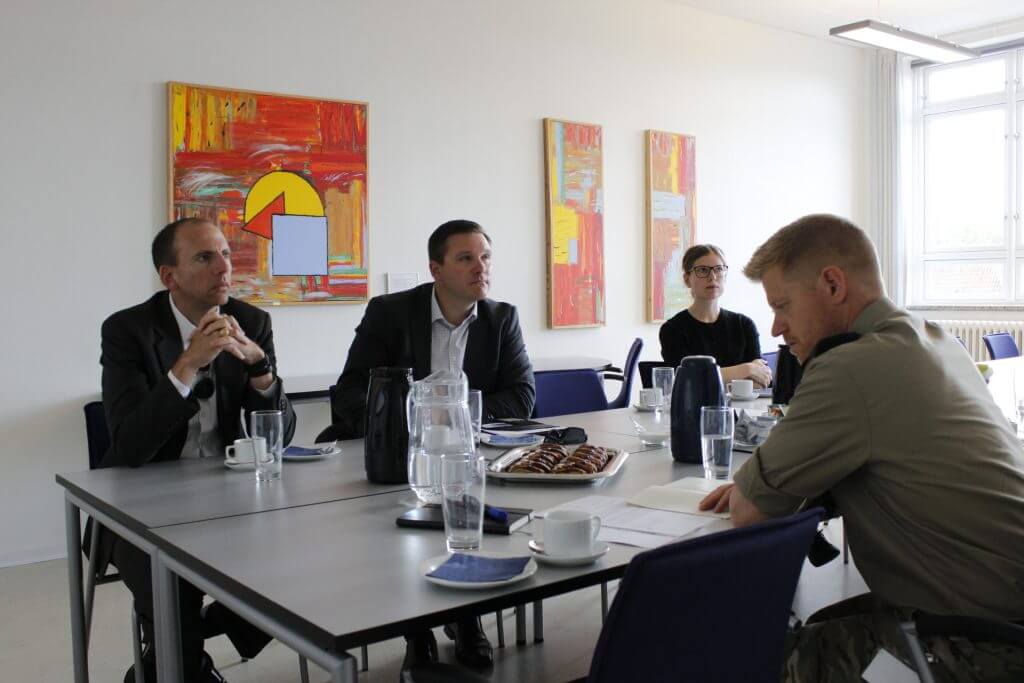 Our trip ended with a visit with the former US Ambassador to Denmark, Laurie Fulton, to gain her perspective on the lessons we were taking away from the experience. Ambassador Fulton (pictured below from L-R: John Boerstler, Ambassador Fulton, Melanie Whittaker, and Peter Ernstved) took specific interest in what we are trying to build at the community level in Houston and has graciously introduced our project team to Consul Anna Holliday whom we plan to meet with in July in order to engage the The TeamDanish-American Chamber of Commerce in our planning. We are proud to report that several key leaders within the Houston veteran community have begun meeting to outline a formal coalition of NGO's and governmental entities in order to form a more collaborative network of services and to establish a central transition space similar to the Danish Veterans Center where all service members returning to the area will have an opportunity to meet with every type of program offered. We hope that this effort will strengthen existing relationships, create new ones, and most importantly focus on preventing veteran unemployment, substance abuse, family challenges, homelessness, criminal behavior, and suicide.
From the many interviews our project team conducted with Danish veteran experts, several additional action items were identified that we can recommend for changes at the policy level in the US military transition systems.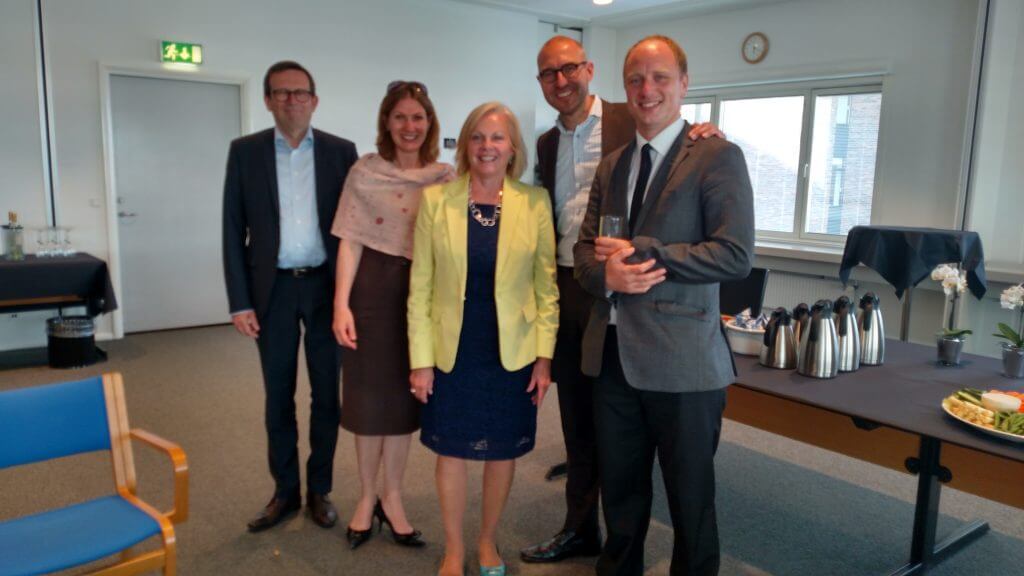 RECOMMENDATION 1: STANDARDIZE MILITARY CREDENTIALING AT THE FEDERAL LEVEL
One of the largest gaps in translating military skills and experience to that of the civilian world is credentialing and licensing of various skilled and vocational trades. For example, an Army electrician who has served in that role for 4 years does not come out of the military with a certification that is equivalent in most civilian systems. Although efforts are currently being made by the Department of Defense, the American Legion, National Center for Construction Education & Research (NCCER) and private companies like Bechtel, a standardized, uniform national system that translates military vocational skills into civilian credentials is critically needed. The Danish HKKF (Privates and Corporals Trade Union) is light years ahead of this problem after they took the European Union (EU) Center for the Development of Vocational Training (Cedefop) skilled trade standardization guide and applied it to all of the Danish military occupational specialties and career fields in order to ensure transitioning soldiers have the credentials to work in the civilian sector upon discharge. This program greatly impacts the soldiers' successful transition from military to civilian life and is a model that our country should adopt in order to breakdown these barriers to employment. It is our hope that the leader of the HKKF, Flemming Vinther, will be invited to participate as a panelist at the 2016 Military Credentialing Summit hosted by the American Legion in order to help make the necessary changes. Our team will try to facilitate his participation to further the Trans-Atlantic exchange of best practices in this field.
RECOMMENDATION 2: EVALUATE THE US MILITARY PSYCHOLOGY AND CHAPLAIN CORPS
Combat stress and symptoms related to post-traumatic stress and traumatic brain injury affect over 2,000 soldiers in Denmark. As a result, the Danish military has bolstered its mental health programming in order to prevent chronic cases from developing. 6 military psychologists and several chaplains are assigned to each battalion 6 months prior to deployment to Afghanistan where they remain with the troops scheduling regular appointments during the campaign and staying with them upon return. This is an extremely conscious and effective continuum of care provided to the soldiers that the US doesn't have. Another stark difference is that the Danish psychologists and chaplains are not rank-holding officers as they are in the US, instead they are professional civilian defense employees. This has several advantages that our team determined. For example, soldiers experiencing symptoms related to combat stress are much more apt to speak with someone they don't have to address as "sir" or "ma'am". In this model, chain of command and military customs and courtesies are immediately taken out of the equation, which allows soldiers to open up more about their experience. This undoubtedly has a positive impact on their overall transition and hopefully experience less chronic combat stress issues. Additionally, this consistent "embedding" of the same non-rank-holding clinicians allows for better identification, treatment, and addressing of pre-existing mental health issues among the troops prior to experiencing stressful situations in combat. The Department of Defense should consider changing to a similar model in preparation for future conflicts. Such a change would be consistent with the DoD's goal of ending the stigma associated with seeking mental health services among those currently serving in the military.
RECOMMENDATION 3: DEVELOP REGIONAL COALITIONS
Many experts advocate for a more community-based approach to helping veterans make a successful transition from military to civilian life. The US Department of Veterans Affairs (VA) has recently launched the Veterans Economic Communities Initiative (VECI), a community-based program focused on coordinating employment and education programs, which is an indicator that the federal government sees the value in a more local approach. For example, the European Union has developed a formal coalition of NGO's and government services led by an supranational organization called EuroMil. In Denmark a national model has been adopted and because of their tradition in providing a much more comprehensive social welfare state, the MoD-led initiatives work as a supplement to the existing services, not as a parallel like the VA system. Because the VA will likely never possess the ability to provide leadership in coordinating services at the community level, the need to develop formal networks or coalitions between governmental, private, and nonprofit entities is now greater than ever with the military's reductions in force. Hundreds of thousands of service members will return to communities across the country armed with very few relevant resources provided by the DoD transition system and it will be the responsibility of these community coalitions to ensure service members reintegrate successfully. Regionalized planning and service delivery with a focus on prevention should be the goal of these networks similar to the Danish Veterans Center model. And perhaps, over time, the local, regionalized approach would allow the VA to slowly shrink the scope and size of the duplicative (separate) services they offer directly, allowing the core of what they offer to be effectively supplemented or complemented by those service providers they coordinate with.
RECOMMENDATION 4: INDIVIDUALIZATION OF TRANSITION SERVICES
One major difference highlighted in our team's interviews of Danish experts is the conscious effort on the part of the Danes to individualize their services for serving and transitioning military members. For example, by embedding psychologists with units before, during, and after deployments, those mental health professionals are able to establish a personal rapport with nearly every service-member in the unit. Also, when it comes to interviewing members transitioning out of the military, this is done on a multi-visit, one-on-one basis so that an in-depth analysis of what each individual service-member's training and job responsibilities entailed. This is done with a realization that, beyond a basic understanding of what each broad military occupation involves, the skills and qualifications gained by the individual soldier can vary greatly depending on their particular unit or deployment experiences. As much as is practicable, the US DoD should also individualize the services it offers to transitioning military members. We realize this will be extremely challenging for our military, given the massive size of our force, but the current "one-size-fits-all" approach taken by DoD in most of the current programs has shown how a failure to individualize can allow large numbers of military member to effectively fall through the system's cracks.
The Danes have developed several strong programs that Houston can learn from and even implement. However, we have to acknowledge the differences that exist between the two societies and apply only those lessons that fit within the existing culture and infrastructure. That being said, more research is needed to uncover more innovative ways we can learn from one another, so this project will not stop with this report. Both systems have room for improvement but its important to step outside of one's own area of operations and see how our allies approach similar problems related to military transition. The allure of "reinventing the wheel" is almost a regular occurrence within the DoD, VA, and community-based NGO's but if we can effectively collaborate as a coalition of service providers focused on local impact and individualized services rather than redundancy, we will be able to effectively prevent more veteran unemployment, substance abuse, family challenges, homelessness, criminal behavior, and suicide. We all have a stake in the successful transition of military veterans into our communities. Now is the time to take ownership.
INTERVIEWEES:
Gitte Lillehund Bech, Former Minister of Defence, CEO of Danish Ports
Jette Albinus, Colonel, Danish Army, Director of the Danish Veterans Centre
Flemming Vinter, Danish HKKF Director
Kristian Madsen, Politiken US Correspondent
Peter Ernstved, GMF Denmark Coordinator
Peter Serup, Major, Danish Army, Veterans Centre
Rene Pamperin, VeteranHaven Director
Lai Sorensen, Danish Afghanistan Veteran
Nicklas Bjaaland, Lieutenant, Danish Army Sports Program
Rune Oland Larsen, Danish Paralympic Committee Veterans Program
John Roberts, Wounded Warrior Project Executive Vice President
James Rodriguez, Deputy Assistant Secretary of Defense for Warrior Care Policy
Jennifer Perez, VA National Director for Transition and Care Management
Peggy Kennedy, VA Transition and Care Management Program
Dr. Stephen Hunt, VA Post Deployment Program
Dr. Drew Helmer, VA National War Related Illness Center Director
Lauren Lobrano, Wounded Warrior Project International Programs Director
Thorin Moser, Marine For Life Program
Sean Mahoney, zero8hundred Executive Director
SPECIAL THANKS TO:
Kevin Cottrell, GMF Transatlantic Leadership Initiatives Director
Melanie Whittaker, GMF Program Officer
Kristian Madsen, Politiken US Correspondent
Lai Sorensen, Danish Afghanistan Veteran
MADE POSSIBLE BY:
German Marshall Fund | McKesson Foundation | Veterans Support Foundation
Combined Arms | Lone Star Veterans Association | NextOp