Houston Veterans & Supporters:
Hurricane Harvey made landfall in South Texas as a Category IV Hurricane on Friday, 25 August 2017. While the South Texas cities of Corpus Christi, Rockport and Port Aransas felt the immediate impact of the storm, Houston was on the "dirty" side and would soon be reeling from torrential rainfall that would produce 800-year floods.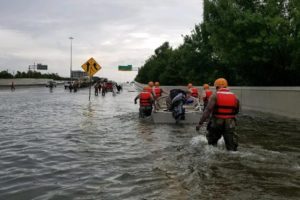 In the spirit of "If Not Me, Then Who?" - Travis Manion Foundation is managing and staffing the Operations Center in the Combined Arms Boardroom. They are identifying inbound shipments of relief items and personnel from outside of Houston. They find targets for the shipments. They find volunteers with identified needs in the community.
Lone Star Veterans Association is managing and staffing the Call Center in Combined Arms. They are taking inbound calls from the constituency and identifying volunteers and veterans that have needs in the community.
Lone Star Legal Aid and Beacon Law has been at GRB, NRG and other area relief centers providing legal advice regarding FEMA applications to those affected by the floods.
Career Gear opened its doors as a basic needs relief center where displaced persons can go to get basic needs items after leaving the shelter.
Combined Arms Staff has made significant changes to the website and back-end Salesforce.comtechnology with help from our amazing partners at Azimuth DS. By using our website, you may identify yourself as a volunteer, sign up for specific volunteer opportunities, or identify yourself as a veteran in need.