Pacifica Sauer left high school at the age 17 to join the U.S. Navy. "Life was new and exciting, and I couldn't wait to be in it," she said. In February of 1996, Sauer left home for boot camp in Great Lakes, Illinois, ready for a big adventure. "It was challenging in the ways I expected it to be, and shocking in others. Service in the military is a proud family tradition. It was something I found worth doing."

Best Decision in Sauer's Adult Life
"My service in the Navy didn't exactly prepare me for 'real' life. But, it certainly gave me a sense of self-direction," Sauer said. She had developed discipline, competency with tools, and a logical understanding of following directions. However, it was the determination to be herself that sealed her fate. Above all, interest in the arts and telling stories resonated more with her than math and engineering. "It was the decision to daringly pursue creative endeavors that lead me to the path I'm on today."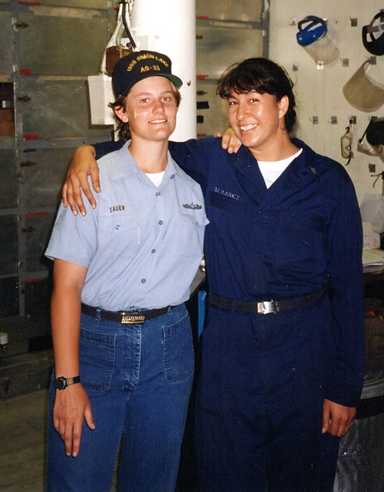 Coming Clean About Her Service
"Several people told me that putting my service on my resume would actually hurt my chances for a job," Sauer said. Since her career was television and film, she willingly denied her service to employers. "For ten years, I labored under the illusion that people think veterans are all broken, the work culture is just too different, and women veterans, in particular, were flat-out dismissed and ignored." One afternoon in an interview in Houston, a gentleman asked her if there was anything about her life that was not on her resume. So, Sauer decided to tell him about her service in the Navy. His response was opposite her fears, and she got the job. "It changed my life that day, with that question," she said.
Identifying as a Veteran in the Community
After some time at the station, Sauer was given the opportunity to produce a series of vignettes about transitioning veterans. She began logging the narratives of all kinds of people, men and women, from every era of recent history for a sponsored awareness project called Operation Appreciation. As a result of the operation and Empowering Arms vignettes, she created The Invisible Project. "Working with my fellow veterans on this project has been a healing mission for me, and in turn, the organizations featured got recognition that otherwise would have been overlooked. The community of Veterans in Houston is growing and expanding, and we are taking our leadership to other cities in Texas, and nationwide," said Sauer.
The film features four women from every era of recent history. They use storytelling to inform and educate the viewer of history and current issues. It will be released for Women Veterans Day 2020 for a statewide premiere in Cinemark Theaters. "The goal of the film is to create awareness, and empower women to get involved in the community. By presenting stories, we hope to connect with people in such a way that the misconceptions are less of an obstacle, and women can get the legislation and recognition they need to continue serving after service," said Sauer.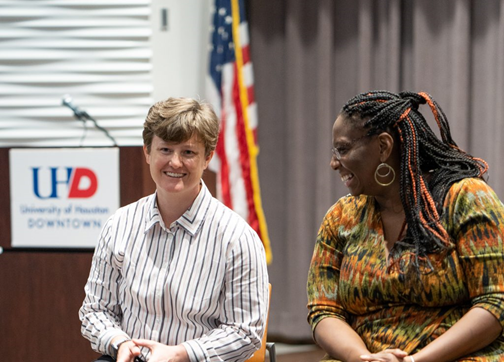 Combined Arms
Sauer stays involved with Combined Arms and is helping build a veteran community. Especially for under served veteran populations such as women and LGBTQ veterans. Combined Arms has a Women Veterans Group, LGBTQ Veterans & Allies Group, and numerous others that hold social and networking events.