We envision a nation where every veteran & military family can easily access the resources needed to thrive in their communities. From Hurricane Harvey to Winter Storm Uri, 2021's fall of Afghanistan, and the subsequent arrival of 7,000+ Afghans to the current food insecurity crisis facing Texas' military-connected communities, Combined Arms has stepped up again to meet the immediate, emerging, and ongoing needs of veterans and military families.
The Need:
Veterans are more likely to experience food insecurity than non-veterans. Working-age veterans are 7.4% more likely to live in a food-insecure household than working-age non-veterans. We found that 17% of post-9/11 veteran and military retiree families have low food security. 2022's record-high food prices and other inflation-fueled price increases have only made matters worse. Grocery prices are 13% higher than last year, which is the largest 12-month increase in over 40 years.
Combined Arms' Solution:
Combined Arms observed a 442%+ increase in food assistance requests and quickly mobilized to launch a monthly Veteran Mobile Food Pantry in Galveston in February 2022 to meet this urgent and growing need. We launched a monthly Veteran Mobile Food Pantries targeting Active, Guard, and Reserve families at Ellington Field in September and in Montgomery Country in Fall 2022.
Our Impact:
To date, we've served over 8,000 military-connected individuals through our Veteran Mobile Food Pantries. In addition to providing a week's worth of food and pantry staples, we ensure all attendees create a Combined Arms profile so they can easily access resources, such as career services support, financial assistance, benefits counseling, and more that can help improve their whole health. Demand continues to grow, so we plan on hosting these events for the foreseeable future.
How You Can Help
Your support will help Combined Arms provide food assistance and resource navigation support to more Texas veterans and military families in need.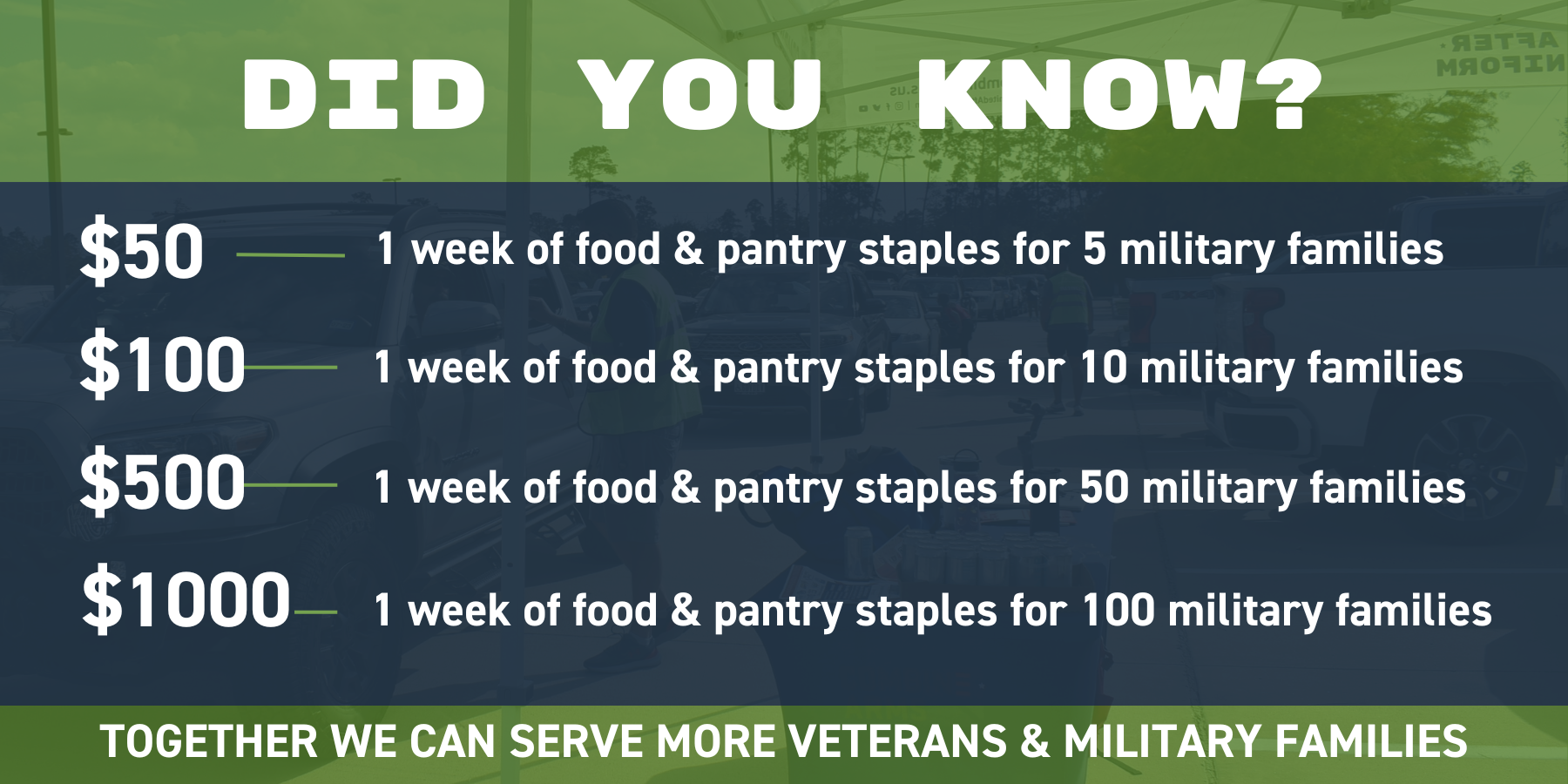 Every donation, no matter the size, matters and will help Combined Arms meet the immediate and evolving needs of veterans and military families across Texas and beyond. Donate today.