The release of "Wonder Woman," a movie about a woman-warrior superhero, was a special event in the Land household. My wife, a Wonder Woman in her own right, and daughters marked the event by taking a special trip to the theater on opening day. If you spent any time on social media last week, you probably noticed a few photos of little girls holding power poses in front of Wonder Woman movie advertisements.
Why the fanfare? Isn't this just a movie? Well…no. In the world of comic book super heroes, there are far more male superheroes in lead roles. It is rare to see a female leading character, especially in a role that portrays the lead as a powerful, justice-seeking woman.
Here in the real world…away from the comics, I look around and see my world filled with female role models and mentors. I'm surrounded by civilians and veterans, ALL women, seeking justice for victims, empowering the weak, confronting the strong, and guiding the lost. I am whole and our community is strong because of Wonder Women such as these.
Special recognition goes to our Lead System Navigator, Monique Rodriguez, who was recognized along with 15 other women across the nation as a "Wonder Woman" because of the great work she does in the community. Congratulations Monique! Check out the press release from Studio Movie Grill!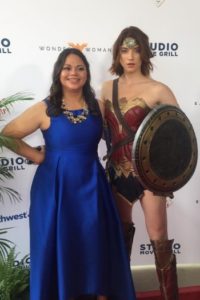 US Army veteran and Combined Arms Team member Monique Rodriguez with Wonder Woman.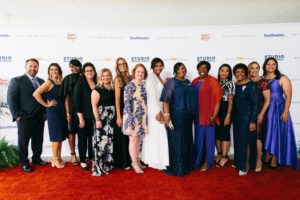 Written by Kelly L. Land, Executive Director, Combined Arms